IIT Centre for Sustainable Futures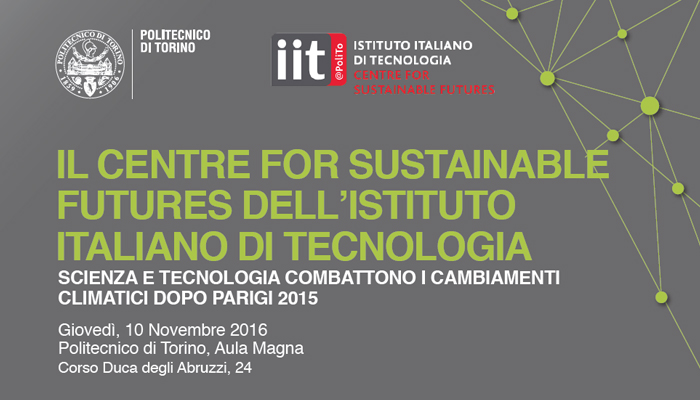 11.11.2016
On November 10th, 2016, a new r&d centre for GHG reduction technologies was launched at Politecnico di Torino.
The most significant outcome of the COP21 agreement reached in Paris last December, i.e. the goal of holding the increase in the global average temperature to well below 2 °C above preindustrial levels, is unlikely to be meet with existing technology.
Therefore, the development of new low-carbon technologies, as well as the improvement of already existing ones, is necessary to reduce the impact of climate change.
For this very reason, the new CSF@PoliTo – Centre for Sustainable Futures – has been created by the Italian Institute of Technology (IIT) and Politecnico di Torino. The Centre was launched on November 10th, 2016,in the Aula Magna at Politecnico di Torino.
The Director of the Centre, Prof. Guido Saracco, opened the ceremony by describing the fields of research on which the project will focus:
use of CO2 as raw material for the synthesis of chemicals, materials or fuels;
the development of production systems fed by renewable energy sources and following the distributed nature of these sources;
low temperature heat storage and exploitation.
Then, several representatives of the research, economy and industry took part in a roundtable discussion on climate change issues to express clear policy proposal for a rapid adjustment of the national contest to the current pace and magnitude of global warming. The President of Asja and assoRinnovabili Agostino Re Rebaudengo participated as a representative of the industry.
Download the program.