Asja returns to Ecomondo – Key Energy Fair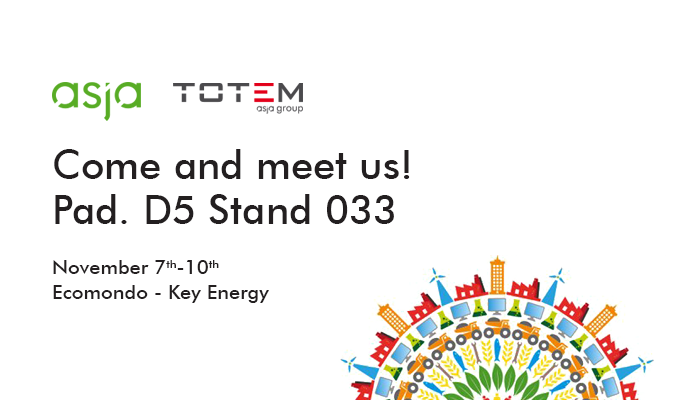 10.10.2017
Asja is coming back to Rimini to attend one of the most important events for the Italian and European green economy: Ecomondo – Key Energy Fair, that will be held from November 7th to 10th. The exhibition will gather for four days and in a single place the world of sustainability in all its forms: energy efficiency, circular economy, renewable energy and sustainable mobility.
Asja will take advantage of such excellent opportunity to present its new development horizons: biomethane production, expected to be the next big thing in circular economy, and microcogeneration, among the technological solutions for distributed generation.
Thanks to its 20-years' experience in biogas-to-energy production, Asja is investing heavily in the development of biomethane production facilities processing the Organic Fraction of Municipal Solid Waste. With two plants in the building stage and several in the development stage, Asja is attending Ecomondo-Key Energy Fair to present its technology and the advantages of biomethane production, which is expected to become one of the main energy resource for the country.
The energy sector outlook in Italy and abroad will be examined in depth in two conferences, in which Asja will take part as a speaker:
Microcogeneration technology, by allowing the production of heat and power when and where needed, is a driver of the current energy revolution. However, microcogenerators' full potential is greater, since those systems can be coupled with other devices, such as heat pumps, to further increase efficiency gains and the variety of services provided.
TOTEM ENERGY will attend the Fair together with Asja to illustrate the next development in the sector, both in its stand and during the conference TOTEM ENERGY: microcogeneration, space conditioning and smart district heating, that will be held on November 8th from 11.30 am to 1.30 pm at the Mimosa Hall 2, (B6 pavillion). Entrance to the conference is free but we recommend you to book your seat by emailing at commerciale@totem.energy.
In line with the context and its corporate mission, Asja will offset through asja -CO2 platform the emissions deriving from the realization of the stand and its energy consumption during the Fair .
Biomethane and microcogeneration, Asja and TOTEM ENERGY. Come and meet us in Rimini at Ecomondo – Key Energy Fair. We will be waiting for you at stand 033, D5 pavillion.